Hysecurity SlideDriver 222CX1.7ST 30F-C Industrial Hydraulic Automatic Slide Gate Opener
Details
Hysecurity SlideDriver 222CX1.7ST 30F-C Industrial Hydraulic Automatic Slide Gate Opener
The SlideDriver 30F-C is an industrial slide gate operator designed and manufactured by HySecurity. This operator is capable of supporting and mobilizing gates up to 3,000 lbs on a continuous duty, hydraulic cycle. Hydraulic motors control the compressed polyurethane AdvanceDrive wheels used to drive the gate. The strong 12-gauge steel chassis contains and protects all internal mechanisms of the operator. The SlideDriver 30F-C includes corrections, adding all control wiring necessary for high security locations such as prisons compounds or law enforcement and court systems.
Note: SlideDriver operators require XtremeDrive 25 inch Rack Kit installation for operation. Each kit includes 25 inches of XtremeDrive Rack. Compare this to the length of the desired gate to decide on the necessary number of rack kits.
Features:
Model: SlideDriver 30F-C
Part #: 222CX1.7ST
Duty Cycle: Continuous
Horsepower: 2 hp
Drive: Hydraulic
Drive Wheels: Two 6 inch AdvanceDrive wheels
Gate Weight Max: 3,000 lbs
Gate Length Max: Limited only by weight
Drawbar Pull: 300 lb
Rate of Travel: 1.7ft/s
Temperature Rating: -40° F to 158° F No heater necessary
1 Phase Power: 208/230V 60 Hz; 220V 50 Hz***
3 Phase Power: 208/230/460V or 575V 60Hz; 220/380/440V 50Hz***
Communication: RS-232, RS-485, Ethernet/fiber using optional HyNet™ Gateway accessory
User Controls: Smart Touch Controller with 70+ configurable settings. Smart Touch keypad and display or a PC using S.T.A.R.T. software.
Relays: Three configurable user relays:

one 30VDC
3A solid state and two 250VAC
10A electromechanical
Optional Hy8Relay for 8 additional relay outputs

Finish: Zinc plated with powder coating
Listed to UL235: Usage Class III, IV
Warranty: 5 year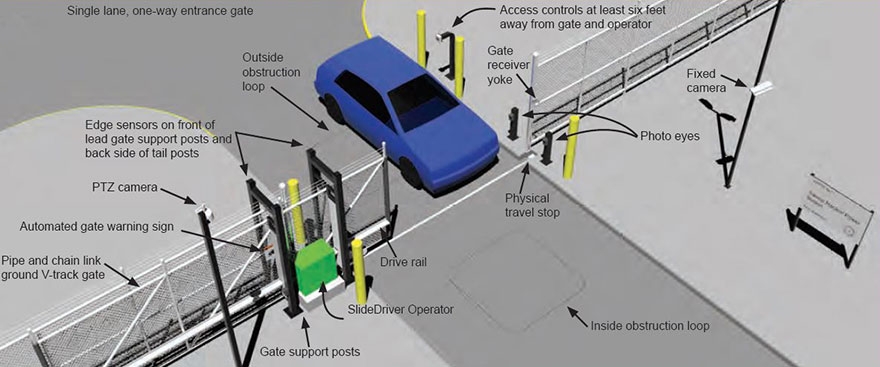 >Optional Accessories:
* 3,000 ft/hr expected duty cycle. The operator's normal duty cycle and the actual number of gate cycles available from battery depends upon gate resistance to travel, cycle length, battery size, state of charge, and health, ambient temperature, accessory power draw and frequency of gate cycles during power outage.
** SlideDriver 200 UPS has a 2,000 ft/hr expected duty cycle. Actual duty cycle depends on site specific conditions and gate configuration.
*** Refer to Installed Options on pricing for all 50Hz voltages and 575V 3Ø, which are special order.
† 115V DC Power Supply requires a 30A branch circuit. Choose voltage with care as chargers are not field convertible.
| | |
| --- | --- |
| SKU | 222CX1.7ST |
| Operator Type | SlideDriver |
| Usage Class | III, IV |
| Max. Gate Weight | 3,000 lbs. |
| Operator HP | 2 HP |
| Operating Speed | 1.7 ft/s |
| Manufacturer | Nice | HySecurity |
You may also be interested in the following product(s)